2008 SF Bay Area Event

ObesityHelp Regional Event
When:
December 6, 2008, All day.
Where:
San Ramon Marriott Hotel
2600 Bishop Drive
San Ramon, CA
Hotel Website
1-800-228-9290
Lodging:
San Ramon Marriott Hotel
2600 Bishop Drive
San Ramon, CA
1-800-228-9290

About the area:
The San Ramon Marriott hotel is situated in a park-like setting, the lavish building housing 368 beautifully decorated guestrooms is located in Bishop Ranch, steps from the offices of Chevron and ATT. Between San Francisco and Silicon Valley, this contemporary hotel is minutes away from numerous entertainment and dining options in Walnut Creek, Pleasanton, Danville and Alamo.
Announcements:
Look Who's Coming to San Ramon! Melting Mama and Eggface are making a special visit to our San Ramon Event! Come see what they cook up!

Your odds are great for winning a $250 Target gift card from OH!

We have negotiated a very special rate of $99 for guest rooms with the San Ramon Marriott. Call one of the following numbers to make your reservations and join us for this event! We would love to have you! Toll free 1-800-228-9290, or locally 925-867-9200.

Dr. John Rabkin is hosting a patient reunion at this event. Please contact his office at 415-668-3200 to sign up for VIP seating.

Big News: There is a clothing exchange at this event, so bring your clean used clothing to exchange, and don't forget a bag to carry home all the goodies you find for yourself!
Schedule:
General Schedule for Saturday
7:00 AM - 8:00 AM
Vendor Setup Time
8:00 AM - 8:45 AM
Registration and Vendor Visits
8:45 AM - 9:00 AM
Opening Remarks and Introductions
9:00 AM - 9:45 AM
Dr. McNemar, Plastic Surgeon
9:55 AM - 10:40 AM
Dr. Feng, Bariatric Surgeon
10:50 AM - 11:35 AM
Sue Lassetter, Bariatric Life Coach
11:35 AM - 12:15 PM
Vendor Visits
12:15 PM - 1:00 PM
Catered Lunch/Schedule Update
1:10 PM - 1:55 PM
Ramon Lopez, WLS Post Op and Motivational Speaker
2:05 PM - 2:50 PM
Jeremy Gentles, Bariatric Fitness Expert
3:00 PM - 4:20 PM
Eggface & Melting Mama! (Michelle Vicari & Beth Sheldon-Badore)
4:20 PM - 4:30 PM
Door Prizes!
Speakers / Topics

Thomas McNemar, M.D.
Every patient is unique and beautiful, says Dr. Thomas McNemar. He believes that cosmetic surgery can accentuate outer beauty while enhancing inner beauty and allowing for a renewed self-confidence. "My approach is to treat every individual as if he or she were my only patient," he says. Recognized for treating post-bariatric patients, Dr. McNemar customizes procedures for excess or sagging skin according to each individual's needs—whether for weight loss, childbirth, or the natural process of aging. Dr. McNemar is committed to helping patients become educated and make well-informed decisions, and has even developed an informative website on cosmetic surgery and published a book on the topic: Your Complete Guide to Breast Augmentation and Body Contouring.

Cosmetic Surgery McNemar Cosmetic Surgery,5201 Norris Canyon Road, Suite 120, San Ramon(925) 866-0177, second location in Tracy, CA
http://www.mcnemarcosmeticsurgery.com
Dr. McNemar will be giving FREE onsite private consultations at the event.

John J. Feng, M.D.
Dr. Feng specializes in minimally invasive bariatric surgery in the surgical treatment for obesity. He has dedicated his practice to
several methods of bariatric surgery, all of which can be performed laparoscopically.
He believes that surgery can be tailored to the
individual patient. These procedures thus allow for less postoperative pain, smaller scars, fewer wound problems and quicker recovery. These techniques include (1) placement of an adjustable gastric band, or
LAP-BAND(r) System or REALIZE(tm) Band, (2) vertical sleeve gastroplasty/gastrectomy,(3) Roux-en-Y gastric bypass and (4) duodenal
switch, or biliopancreatic diversion with duodenal switch.

Dr. Feng was the first surgeon in California to perform the vertical sleeve gastrectomy after being specially trained in the procedure during his fellowship in bariatric surgery in New York.

Dr. Feng is an American Society for Bariatric Society Center of Excellence Surgeon. Dr. Feng is the current Medical Director of the Bariatric Surgery Program at Sequoia Hospital in Redwood City. He is a Fellow of the American College of Surgeons and Board Certified General
Surgeon. He received a Bachelor of Science Degree in Biological Sciences from Stanford University with Honors and Distinction in 1988
and completed Medical School in 1993 at the University of California San Francisco (UCSF). He trained at UCSF for general surgery residency from 1993 to 2001, during which time he dedicated 3 years to wound healing research with Dr. Thomas K. Hunt. He then completed a specialty fellowship with Dr. Michel Gagner and Dr. Barry Salky at Mount Sinai Medical Center in New York City in advanced laparoscopic and minimally invasive general surgery and bariatric surgery from 2001-2002.

His main office in San Mateo is complemented by satellite offices in Lodi, Walnut Creek, San Francisco, and Monterey, where he sees patients
every month. In addition to nutritional support and long-term followup on a regular basis, Dr. Feng conducts support group meetings to help
achieve optimal care for them.

For a more detailed description of Dr. Feng's program at Crystal Springs Surgical Associates and the various surgical options, please visit his website at: .
http://www.gastricbypasssanfrancisco.com

Dr. Feng will be giving FREE on-site private, "mini"-consultations.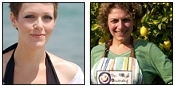 Beth L. Sheldon-Badore & Michelle Vicari, aka Melting Mama & Eggface
How to Cook, Eat, and Succeed after WLS!

For the first time ever, beloved OH members and super-bloggers Melting Mama (Beth Sheldon-Badore) and Eggface (Michelle Vicari) will share the stage to present the smart, savvy post-WLS way to cook and eat.

Michelle had open RNY Gastric Bypass Surgery in June 2006. At the time she weighed 295 lbs., and suffered from sleep apnea, GERD, and high blood pressure. Two years later, she's ditched the 8 medications she was on, lost 150 pounds and has enjoyed resolution of all co-morbidities.

Michelle has always loved to cook, and vowed not to let her creative passion leave when she had surgery. Lucky for us, Michelle has become an expert "recipe revolutionary" by making healthy versions of her pre-op favorites.

Beth Sheldon-Badore, or "Melting Mama" as she's known through her blog and on OH - has been advising on all things food, nutrition, and life since her WLS in 2004. Her witty, honest approach to life after WLS has inspired thousands in the bariatric community to find their own way to long-term weight loss surgery success, and her advice on food, nutritional and lifestyle products is coveted by post-bariatric patients across the country.

Don't miss this special pairing!

Sue Lassetter, Bariatric Life Coach
Make (and maintain) the changes for a healthy life!

With a contagious energy and zest for life, Certified Life Coach Sue Lassetter will inspire you to make enduring health choices for long-term weight loss maintenance. Don't miss the chance to hear her words of wisdom!

Jeremy Gentles, Fitness Expert
Jeremy Gentles, MA, CSCS, is ObesityHelp's exercise physiologist. Jeremy studied Exercise Science at East Tennessee State University and is a Certified Strength and Conditioning Specialist (CSCS) through the National Strength and Conditioning Association (NSCA).

In his presentation, Jeremy will arm you with the knowledge to safely participate in a self-guided exercise program to assist you in achieving long-term success after weight loss surgery. He'll offer solutions for overcoming a multitude of obstacles that can get in the way of enjoying a full, active life. By helping you understand the why's and how's of exercise, Jeremy will empower you to knock down those obstacles, allowing you to become healthier through exercise. Come explore the benefits of having a healthy focus and learn how to properly and safely implement a weight/resistance training program.

It's your journey....Train for it!

Ramon Lopez, WLS Post-op & Motivational Speaker
Never Forget Where You Came From...

That is one of the rules Ramon has lived by from day one of his WLS. Ramon reached goal in just fifteen months and has been loving life ever since.

Ramon is now living a life he never thought possible after spending 37 years as an obese person. Now, he feels blessed to be part of the ObesityHelp community, especially in his home state of Texas where he shares his story and inspires those in and around the area. Friendships and traveling aside, what makes Ramon most happy are the lessons he has learned from fellow WLS post-ops. He will share that and more with us in his dynamic presentation.
Costs and Ticket Information:
Ticket sales for this event are currently unavailable. Check back soon for more information on tickets and costs. Email events@obesityhelp.com if you have any questions.